For five years, World Wrestling Entertainment (otherwise known as WWE) has been hard at work developing the "WWE Network" – a TV Network owned by the WWE which would host exclusive content – such as non-wrestling shows made for the network that feature its "Superstar" talent – as well as becoming the official platform by which its Pay-Per-View wrestling shows would be distributed through in the future.
Starting February 24th, 2014, residents of the United States will finally be able to enjoy the fruits of their labour, when the WWE Network launches online. For $9.99 a month, subscribers will get access to the 12 WWE pay-per-view events WWE produces annually, starting with this year's WrestleMania – WWE's most popular Pay-Per-View. The Network will also broadcast future episodes of NXT – its wrestling promotion that showcases fresher talent with the aim of turning one or more of them into full WWE Superstars by the end of each season – as live TV shows for the first time; and will also host brand-new shows exclusive to the network and archive footage from the yesteryears of WWE, WWF, WCW and ECW.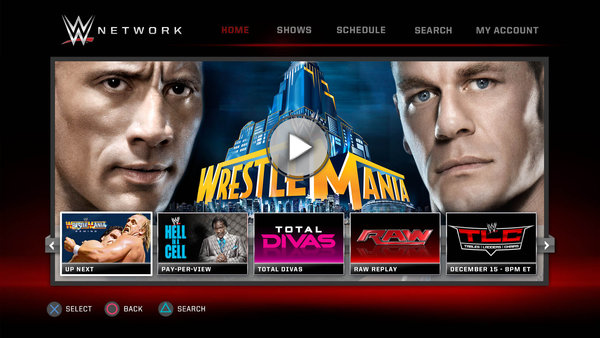 A screenshot of the WWE Network Playstation App. The WWE Network will hit PC, Playstation, Xbox and Roku TV Boxes (see below)
Originally, the plan for the WWE Network was for it to be an independent cable network people could sign up to and receive like their existing TV Network, but this was shot down. WWE Chairman Vince McMahon then toyed with the idea of making the network a pay-TV channel like HBO. The idea would have been that existing TV Networks could licence the WWE Network from them and then offer it as an additional channel to their own customers for an additional monthly subscription. McMahon said WWE had deals ready to go with major distributors for a network that would have generated fees of 20 cents per month, per subscriber; but this cost and the terms of the deals being offered by the distributors were "too restrictive"; and he walked away.
"I said, much to the chagrin of my staff, I'm not going to sign it."
– Vince McMahon
Instead, the WWE looked at how Netflix was able to create an OTT service and became convinced that its own rabid fan base would embrace a similar approach. "Our fans are early adopters of new technologies," McMahon said, adding that the service will need about a million subscribers to break even. Michelle Wilson, WWE's chief revenue and marketing officer, added, "This gives us control of our destiny and a better user interface … We think this is the future."
So, the new WWE Network will be an online, "Over The Top" TV Network, which will be available online in your browser, or through specially-made WWE Network apps hitting Playstation, Xbox and Roku TV boxes. United States subscribers will have access to the Network via their chosen device for free between February 24th until March 2nd as a one-week trial to celebrate the Network's launch, which will include one live NXT Episode.
While WWE are still quiet on when other territories will receive the Network, the company has stated that they plan to expand its reach further "by year's end". With the United Kingdom being WWE's second biggest-selling territory, we highly expect an announcement for a UK launch in the next few months 🙂
This informative article has been Digiproved © 2014
Acknowledgements: Quoted portions courtesy LA Times
Some Rights Reserved