Halloween seems to be a holiday the team at Game Freak – rather like myself – really admires lately, given how many Ghosts and spooky happenings were slipped into Pokémon X and Y in reference to the game's October worldwide launch – and now, Nintendo have unveiled a series of ghoulish gifts to make Halloween 2014 truly a treat.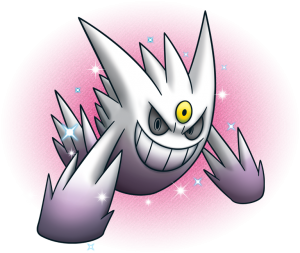 Shiny Mega Gengar
The first of these was spoilered last month when it was revealed to be following the Diancie giveaway, but is worth a reminder anyway. Between October 15 and November 5, 2014 at participating GAME, GameStop and other stores, you'll be able to pick up a special code card. Enter your code with the "GET WITH CODE" option in Mystery Gift and you'll unlock a shiny Gengar to send to your Pokémon X or Pokémon Y game… but it gets better!
This Gengar arrives holding a Gengarite, the Mega Stone that allows it to become Mega Gengar during battle, bringing with it the usual Mega Pokémon stat boosts. With the Shadow Tag ability – preventing opponents from fleeing or switching while Mega Gengar remains in play – replacing the Gengar's normal ability in Mega Form, Nintendo state this terror is "as ready for a fight as it is for a fright" – though while Nintendo also make a big deal of Shiny Mega Gengar's new white colouration, even being the hardened Gengar fan I am, I find this very much something I could just as easily take or leave.

Super Size Pumpkaboo
If that wasn't enough for you, how about a SECOND free Pokémon? That's right! In another nod to Halloween, Pokémon X and Y also introduced two Kalos Pokémon based around pumpkins – Pumpkaboo and its evolution, Gourgeist. Like real pumpkins, the two Pokémon have a unique gimmick in X and Y in that they they can be caught in four different sizes, from Small to Super-size. Each size varies in rarity with the Super-Size version being the most difficult to catch – but now, for the month of October, you don't even have to catch it to get one!
Throughout the whole month of October – that's the 1st to the 31st – simply check Mystery Gift to collect a free Super Size Pumpkaboo to download to your copy of Pokémon X or Y. Unlike the Gengar, no code is needed – just choose the "Get via Internet" option to find the gift. The Pumpkaboo – which can be either male or female, selected randomly – will also come equipped with a Rocky Helmet, allowing it to cause recoil damage to any Pokémon that dares to attack it up close – and just to fit the Halloween theme a little more, Trick-or-Treat and Scary Face are just two of the moves it'll know out of the box. All Pumpkaboo evolve via trade, so don't forget to share your new pumpkin Pokémon with a friend (as long as you can trust them to give it back!) and that super-sized Pumpkaboo will become an even more super-sized Gourgeist!
As well as being a great Halloween gift, the super-size Pumpkaboo giveaway is also a clever advertisement. By having one, players are one step closer to participating in the next big treat: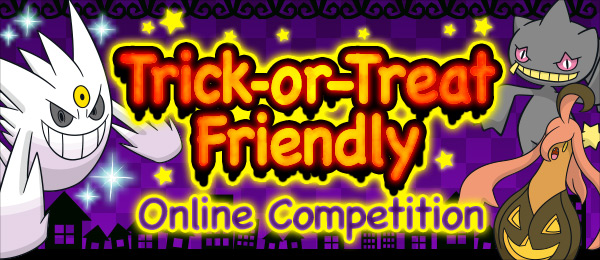 Halloween Tournament!
As a special Halloween treat, the Pokémon Company is running a special online Tournament this month specifically for Ghost-type Pokémon. Between 16-24th October, players will be able to register theier Battle Box to compete in a global Trick-or-Treat Friendly, as long as their Battle Box contains Ghost-type Pokémon only. However, one of these Pokémon MUST be a Super Size Gourgeist to qualify – hence the giveaway above. Sneaky! Additionally, the Pokémon MUST have come from Pokémon X and Y – ones imported from Black/White or their sequels do not count – and Rotom or Giratina are also banned. Entries are limited to the first 50,000 participants, so make sure to register fast you want to get involved!
The tournament will take place from 9:00 a.m. Japan time on October 24 until 8:59 a.m. Japan time on October 27, with final rankings posted on the 31st and will use a Single Battle format. Complete at least one battle during the tournament and you'll be entitled to a gift of 5 Rare Candies! Pokémon will be set to level 50 for this competition. Each battle will have a maximum length of 30 minutes. Players will have 60 seconds per turn, and 90 seconds to select which Pokémon they would like to use. They may battle 10 times a day; and "Juniors" – those born before 2000, which will be entered into a seperate division to other players – will not be able to battle from 11:00 p.m. until 6:00 a.m. Japan Time.
Other Stuff
Finally, to promote the launch of the next Pokémon X & Y Trading Card Game expansion, Phantom Forces, the official site is offering a page of Spooky Stuff to download – such as backgrounds for your computer desktop, and pumpkin-carving templates to add some Pokémon fun to your Halloween party. There will also soon be a Gengar costume available for players of Pokémon TCG Online to deck out their characters in. Have a great Halloween, everyone!
[An edited version of this article first appeared at Sanitarium.FM]
This informative article has been Digiproved © 2014
Acknowledgements: Images copyright Nintendo / The Poké more...
Some Rights Reserved